>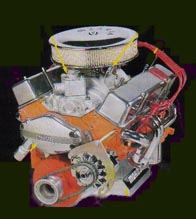 V-8 Series conversions are extremly popular.I've divided the swap into sections:
Exhaust, Transmission, Motor Mounts, Radiator and Other. All parts are from Summit Racing uness noted.
Exhaust
Headers for this swap are available from Hedman Hedders. The Hedman Headers are available in shorty and full length. The shorty headers cost around $95 and the full length header costs about $250. All of them can be ordered online through Summit Racing. Hedman Shorty PN: HED-69520, Hedman Full Length PN: HED-69490. There is no dual exhaust made as far as I know, you will have to have one fabricated by your local muffler shop.
Transmission
For a the Transmission I would seriosly advise you to upgrade to either a TH350, 700R4 or Borg Warner T-5 and maybe the 5-speed that GM put in full size trucks. The 700R4 or T-5 should be swapped out of a 3rd-Gen Camaro. The stock transmissions just wont live long behind a healthy Small Block. But if you want the stock transmission can be reused with modifications. If you are trying do this swap cheaply go with the TH350. You might need some crossmember modifications for any of these swaps.
Motor Mounts
Motor Mounts are available from TD Performance Products. One style mounts right to the 2.8l mount pads and are recommended for use with the Hedman shorty hedders. The other style requires Chevy mount pads and shells and are recommended for use with the Hedman full length header. I have been told that they suck because you have to chope up the rad support but I dont know of any other options(other than custom made) Both can be ordered online through Summit Racing for around $60. TD Motor Mounts(for shorty hedders) PN: TRD-9926, TD Motor Mounts(for full length hedders PN:TRD-4689
Radiator
The stock radiator just wont cut it. Try Locating A 4.3L HD radiator or a radiator from a 2nd Generation F-Body(Camaro & Firebird)before getting your old radiator improved or getting a really expensive one from the aftermarket.
Other
Even though there is ton of good V-8 Conversion Tech here I would still buy the "Chevrolet S-Truck V-8 Conversion Manual" from Summit racing. It is around $30. Chevrolet S-Truck Conversion Manual PN: JTR-S10.