Do you have a V-8 S-Series? If so please email me some pictures and information. Engines and Burnouts would really make me happy.
---
This 11ummm. . . 15second truck has had some problems traction problems. Well the 11second part will be true once owner Andrew Hoyt gets rid of the blocks(which only add leverage to the  wheel hop) and adds dearched springs a set of traction bars might help as well. Also a new 400 based 377 will occupy the engine bay instead of the tourque monster 406. Andy is a fan of the manual trannie (as am I) but the T-5 pirated from a '88 Camaro is giving way(because of breakage and the traction thing) to a TH350 will lots of stall. The first thing I noticed was the beautiful paint this 1986 S10 has. I liked it so much I asked Andy what color it was expecting him to say PPG Hot Red. Well the paint is bone stock, it was called red-orange. The truck is currently in storage while Andy drives his '95 Z28.

---
This here is another V-8 S-Series with beuatiful paint. Owner Jim Huff has done all the right things to his truck to make it look great. The silver paint, the Weld Pro Stars and mild lowering (2"/3") all help the cause.  A 350 helps Jim go quickly down the quarter mile with the help of a TH350(darn autos). Jim plans on lowering the Blazer some more to achieve a total of 4/5 inches of drop and adding 17" Camaro SS rims. Jim please don't change the Welds, they look killer.

---
This 1987 S10 has all the right stuff to make it launch hard and then turn corners with ease. Bill McNett proudly drives his truck that is always under construction. A Holley 2D Projection feeds fuel to a 350 which turns a 700R4 and 8.5inch rear pirated from a newer S10. The almost common IROC-Z wheels round out the package.
---
Mike Noonan owns the only 1982 Chevy S10 4x4. It has an '86 Blazer front clip and a '82 rear clip. The most obvious mod of coarse is the Choo Choo Customs Wildside bed. The motor is TPI 355 that has been mildly built. The trannie I believe is a 700R4 and the pretty paint makes this truck really stand out.
---
Well I dont know about you but I have never seen a BigBlock in an S10 but well that all changed when I saw this puple, soon to be a 2x3 rectangular tube framed S10 owned by Peterson. In order to shoehorn the BigBlock in he had to move the firefall back 8 inches and raise the trans tunnel anouther couple of inches. The new rectangular tube frame built by Art Morrison should nock off 500lbs of excess weight. The truck is entirly street-legal and includes all the power neccesities such as steering, brakes, and even windows! The truck is estimated to do 10s when complete.
---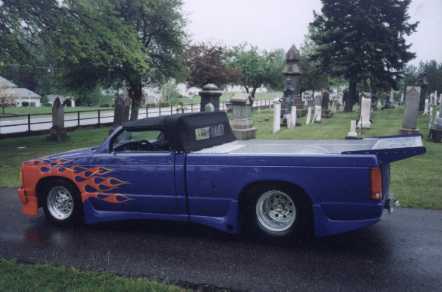 What a nice place to take a picture of your truck. Well this back-halved S10 sports a typical small block. The Kane's also added a targa top after chopping the windsheild a couple of inches. A wing and the flame-job create a head-turner.
---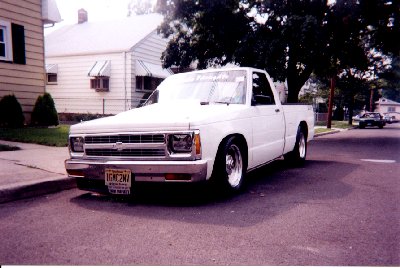 This truck looks like a typical lowrider. A mild SBChevy powered this soon to be Pro Street GMC to a 12.70 ets. Cliff is going to add a S&W Race Cars back-half to turn a lowrider into a Pro Streeter. I thought Pro Street was dead but I guess I am proven wrong with Kane's and Cliff's trucks.
---
This here is OneSickS10's Drag Truck. It has a 500HP 406 that is soon to recieve aluminum heads and a blower to put it deep into the 9s! Also in the works is a 4-link and big slicks. The primer gray looks just brutal and so do the white-spoke rims. The ride height is the only thing that detracts from a great ride as it needs to be lowered. Oh Yah, it has a G-Tech Accerelrometer for ummm.. street testing.
---
This is David's Blazer. It has a mild 350 and 700R4 trans. A 2/3 drop looks just right on Blazers for some reason and that Deep Amethyst Pearl Coat, clear coners and shaved emblems make the Blazer just beautiful. You see with mild bolt ons you can end up with an awsome ride.
---
This is Ron's S10. It has a rebuilt 305 with plenty of speed parts. It also has 15x7 Progressive wheels that look pretty good. Fiberglass Ground Effects, Wing and the body are covered in the bright blue metalic stuff. Why do most of the trucks on this page have bitchin paint?
---
This is Ryan's Blazer. It has a typical Small Block. Those wheels are straight off a Camaro. A cowl induction hood has been bolted on as one of many mods.
---